Is Your Second Grader Thinking About Scouts?
Welcome to Cub Scouting. By joining Pack 24 Attleboro, you and your son will begin on a trail of fun and adventure that will challenge him and allow you to share experiences that you probably would not otherwise have. He may even become an Eagle Scout!

Cub Scouting is designed to provide opportunities for families to work and play together, to have fun together and to get to know each other better. Parents and/or a boy's adult partner play an integral part of Cub Scouting!
If your boy is 7-8 years old and in (or entering) the second grade, he's ready to join our Wolf Den.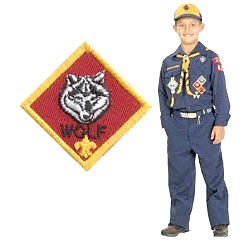 Cub scouting is all about providing you and your boy a family, home, and community-centered age-appropriate program that develops character, citizenship and fitness that will help positively shape the person your boy will become.
As a Cub Scout, your son is a part of a group of boys his own age called a den and, as a Wolf Cub Scout, will learn more about staying healthy, knowing his home and community, tools for fixing and building, cooking healthy, being safe, making good choices, and much more.. With his den, your son will build confidence and self-esteem and earn recognition. He will also gain a sense of personal achievement from the new skills he learns. Dens are usually between six and eight boys with one or two parents who are the Den Leaders.
Most dens meet two-three times a month. Den meetings are filled with games, crafts, songs, ceremonies, activities and lots of age-appropriate FUN!
We welcome your questions! 
We'd love to talk with you about the Pack 24 Cub Scout Program and the positive impact scouting will have on your entire family. 
So email our Cubmaster and let us know how we can help get your boy started or fill out our convenient information request form.